To search for a particular booking, event or a floater; click on Search from the left navigation menu.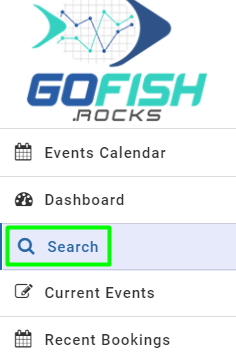 In the next step, you can search for User, Booking, Events or Floaters by simply filling the fields.
Fill in the details of your passenger and click on Search. We are using the Billing user search as highlighted in the screenshot below. You can also search from the Manifest User search. As you click on Search the details of the billing user will be displayed.

You will see the booking details like shown below.

If you want to make any changes; click on the 'Blue' Actions button on the left side.
If you want to search for a particular booking, you can do so by choosing the 'Booking Search' option.

Enter the following details to see booking
Booking Confirmation number
Booking status (Active, Deleted, Blocked, Cancelled)
Click on Search and the booking will appear.

You can also search a particular booking by entering its Booking Date, Event Date. The system allows you to search for a booking in different ways.

Event search allows you to find an Event by simply entering the following information
Boat Name – Enter the boat name of the assigned boat.

Event Type – Enter Event Type (Full Day/Half Day etc.)

Event From – Enter start date before the event date

Event To – Enter an after date of the event

Status – Select Status (Active, Deleted, Blocked, Cancelled)

After filling all the details, click on 'Search and you will be able to see all the Events that fall apt as per the filled criteria.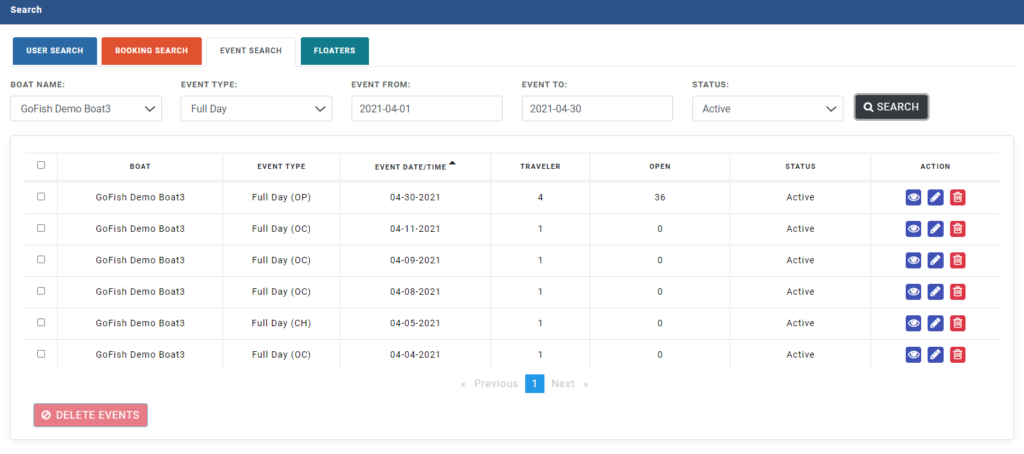 You can view, edit or delete these events with the buttons on the right hand side.

Floaters are passengers who due to some reason cannot go to the trip. They can either move their booking to a later date or can apply for a refund and get their bookings cancelled. You can search for Floaters from the Search Bar.

You can make changes in your Floaters with the 'Blue' action button on the right hand side.