1. What are 'Reoccurring Events'
Reoccurring Events can be simply understood as boating events intended to operate for more than one day i.e. it can be an event for a week or an entire month etc.
You can plan ahead and create Reoccurring events in one go. Let us assume that Boat 1 departs every alternate day at 7 am and returns at 6 pm. Similarly, let us assume that Boat 2 and Boat 3 runs on only Friday's and Saturday's.
By creating Reoccurring Events from the Reservation system Admin, you can create all such bulk bookings in a single go.
2. Create Reoccurring Open Party Events?
Step 1 – Click on Reoccurring Events under Open Party Trips.

You're required to fill in the necessary details –
Step 2 – Add Reoccurring Open Party Event
Select Boat – Select your boat
Trip Type – ½ day, Overnight Trip, Full Day, etc.
Event Scheduled From – Select start date
Event Scheduled To – Select end date
Trip Start Time – Scheduled start time of the trip.
Scheduled Event Days – Since the trip is of reoccurring in nature; you're required to select days on which the trips will go. (Sunday, Monday, Tuesday, Wednesday, Thursday, Friday, Saturday)
Trip Duration (Days, Hours and Minutes)
Initial Online Status – Offline trips are not available for public users to book directly. Only the admin can make a booking on offline events through the back end.
Online cutoff time – This feature allows you to make your event go offline for more bookings ahead of your departure. If you don't want to take bookings 2 hours before the departure; you can fill two hour here.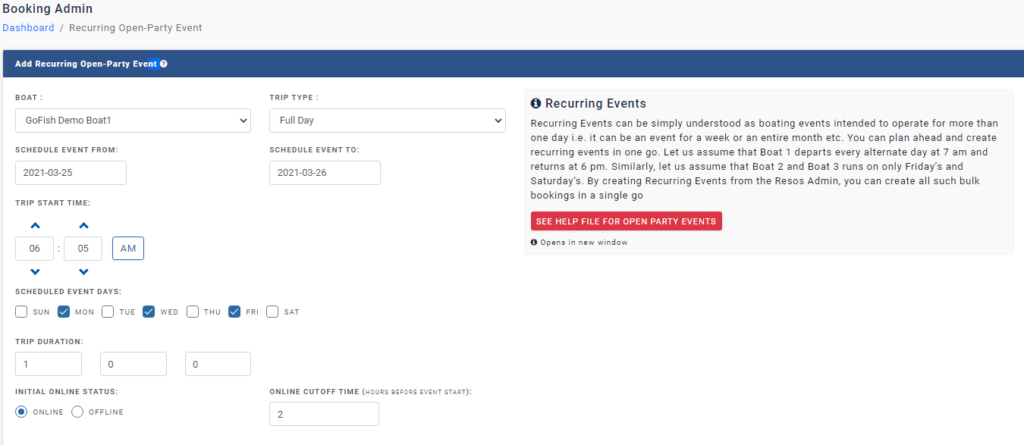 The next step is to fill in the ticket details. Fill in the following details.
Total number of tickets
Default Deposit Percentage
Select Ticket Type – You can categorize your ticket types such as for Adults, Minor, Veterans, etc.


Step 4 – Event Information
Here you're required to fill in the Title and description of your Reoccurring Open-Party Events.
Enter an event name and description.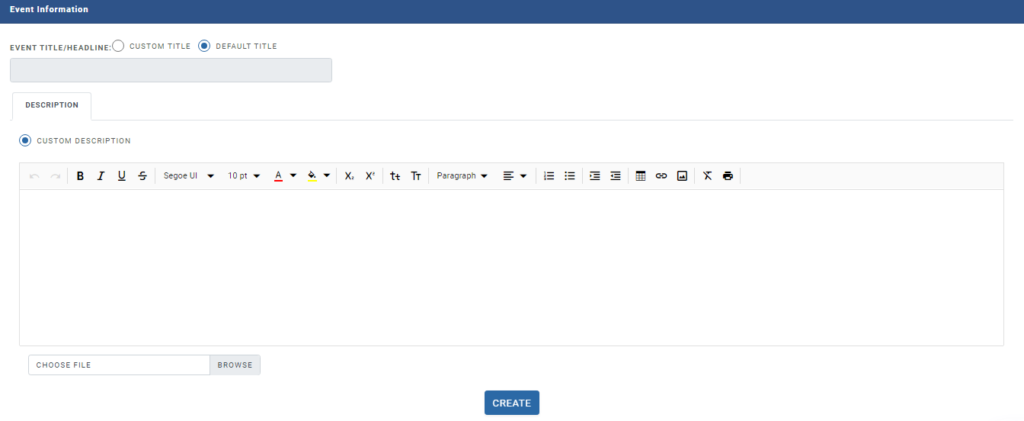 You can also add an image. It will be shown on the public site. If no image is selected; default image will be shown.