Complete your business profile
Complete your Business Profile
Step 1. Add Landing Details
Fill in the details related to your Landing Name.
Owner Details
First Name
Last Name
Email Id
Phone Number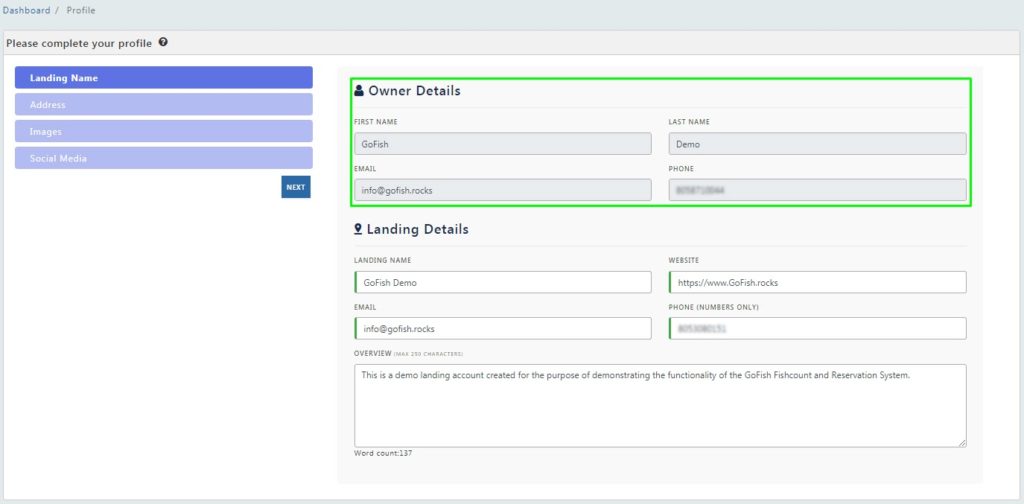 Landing Details
(to be displayed to your customers on your landing's 'My Page')
Landing Name
Website URL
Email Id (Business Email)
Contact Number (Business phone number)
Overview – A short description of 198 words describing your fishing business.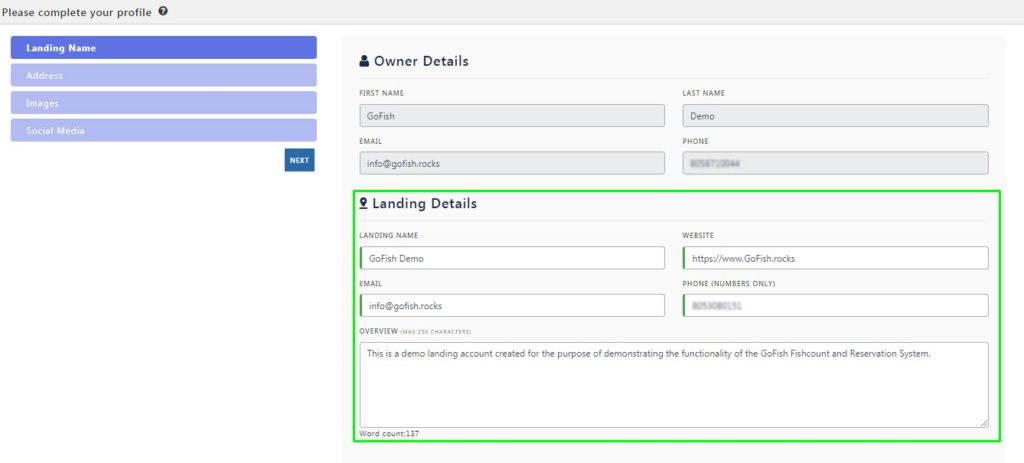 Fill in your Address details
Line 1 – Enter your Address
Line 2 – Enter your Address
State – Enter your state name. Example: CA for California.
City – Enter city name
ZIP – Enter your ZIP Code
Time Zone – California state lies in the Pacific Daylight Time. Select 'Pacific Time – PT' for California. If you're based outside California; choose your time zone accordingly.

Google Map link – Find and select your boat/landing location on Google Maps. Copy the url from the browser and paste it in the field.

Click on the 'Images' section to add an image to your profile.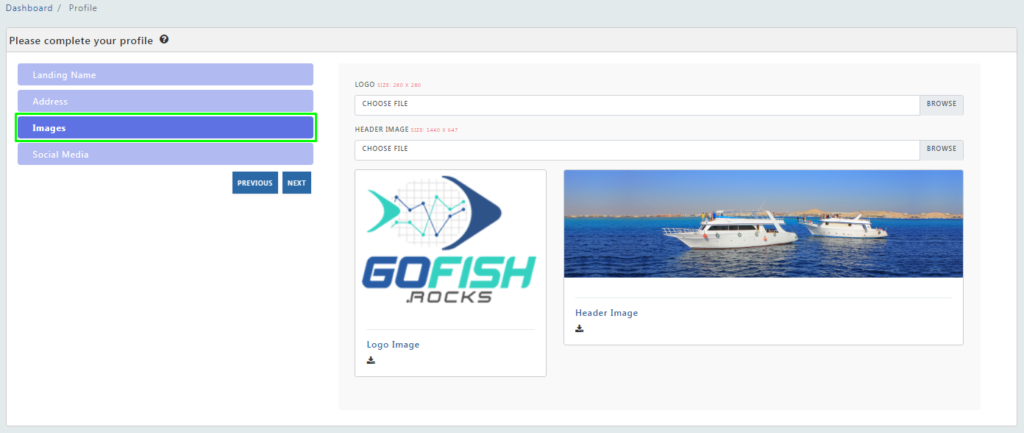 Pictures and images make your profile look more optimized and professional. Here you're required to add a Logo and a Header Image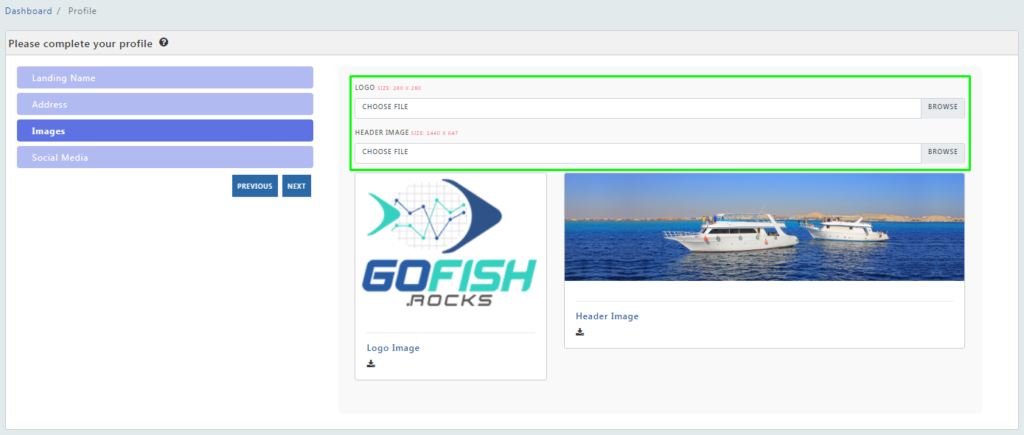 How to Upload Images?
To upload a Logo, click on 'Browse' on the right side of the screen as shown in the below screenshot. The entire bar is clickable so you can also click anywhere on the bar. The recommended logo size is 280 x 280.

Click on the Browse button and go to the image destination of your PC/Laptop. Select the image and click on 'Open'. The image will reflect itself upon uploading.
In the same vein, select your Header image by clicking on 'Browse' and selecting the header image from your PC/Laptop. The recommended header image size is 1440 x 647.

This logo and header images will be reflected at your 'view My Page' section.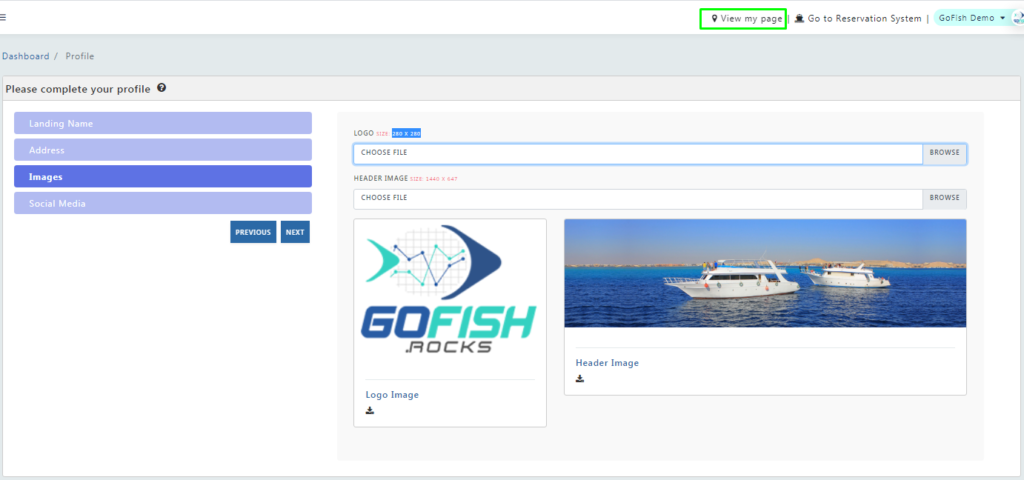 To see how it looks; click on 'View my page'. You'll see two options namely – Fishcount and Whale watching.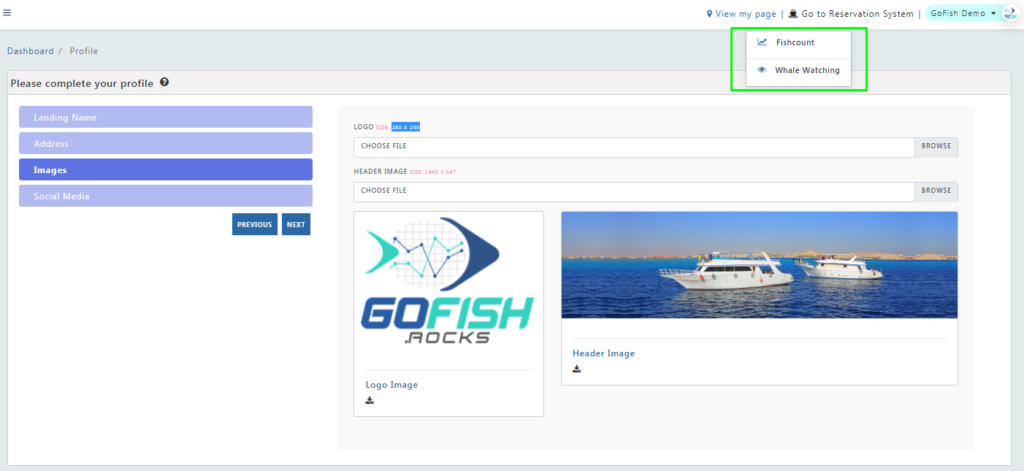 As you click on either of them a separate tab will appear with their respective information.
Fishcount – Upon clicking on FishCount; you'll be able to see the below screen.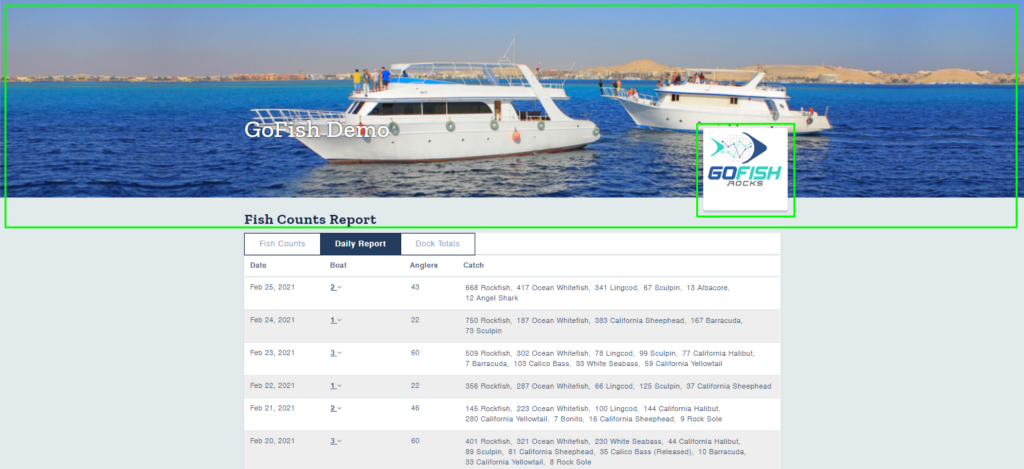 Whale watching – Upon clicking on Whale watching; you'll be able to see the screen below.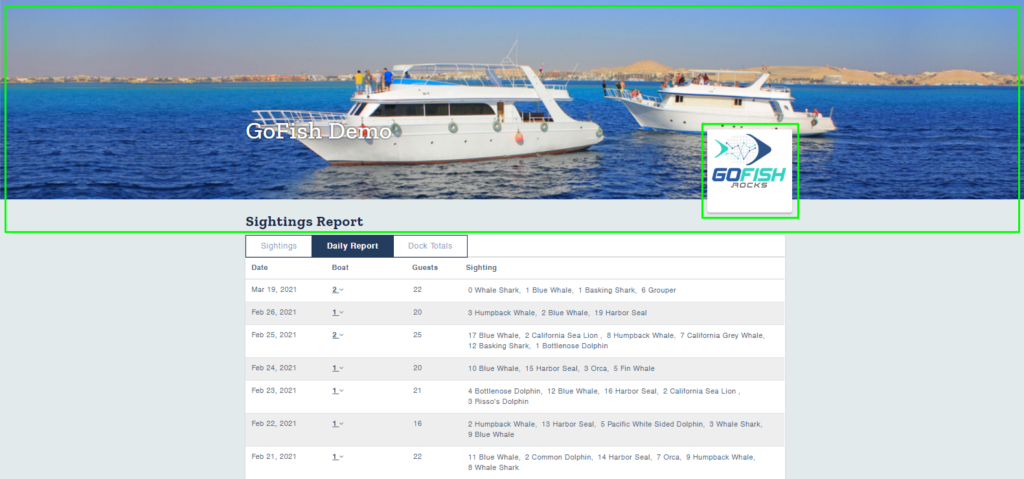 The penetration of social media users have drastically increased over the last decade making businesses consider social media platforms as a crucial part of their marketing strategy. Here you're required to fill in your social media links.
Fill in your social media links
Facebook – Enter your facebook profile url
Instagram – Enter your Instagram profile url
YouTube – Enter your YouTube channel url
Twitter – Enter your Twitter url